New Release: PowerCLI 6.5 R1 Poster!
New PowerCLI 6.5 R1 Poster! — #VMware #PowerCLI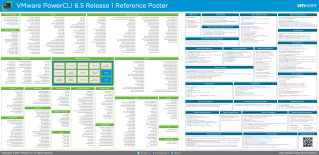 PowerCLI 6.5 was a big release for us. We changed the name to reflect that we're doing a bit more than just vSphere these days, we fully converted our snap-ins to modules, and so many more upgrades and updates. There are always a lot of asks for it with every release, so I am extremely happy to finally announce the release of the VMware PowerCLI 6.5 R1 poster!
---